THE CLOSEST THING TO A WORLD SUPERBIKE CHAMPIONSHIP MACHINE
Based on the KRT race machine that has been amassing record after record in the Superbike World Championship, Kawasaki's trio of litre-class supersport models allow a wide range of riders to experience the thrill of exploring their limits on the circuit. Engine improvements for 2019 Ninja ZX-10RR offer increased power, with an even wider power-band both advantages that that will further increase their race-winning potential. And the Ninja ZX-10RR – already one of the most potent track weapons in the paddock, and a proven championship winner receives tailor-made titanium connecting rods that benefit both engine and chassis performance, making it even more competitive. Limited-production (500 units worldwide) track-focused single seat model enhances the potential of the base model with further engine and chassis modifications, including titanium connecting rods, fine-tuned suspension settings, and forged Marchesini wheels.
FINGER-FOLLOWER VALVE ACTUATION
KQS (KAWASAKI QUICK SHIFTER)
Dual-direction KQS is now standard equipment on all models. Dual-direction KQS system allows both clutchless upshifts and downshifts, facilitating circuit riding. Designed for effective sport riding, KQS can also be used on the street at rpm above 2,500 min-1.
HIDDEN ACCENTS
All models feature a red painted cylinder head cover, an expression of the high performance offered by finger-follower valve actuation.
HIGH-PERFORMANCE BREMBO BRAKE SYSTEM
A pair of massive φ330 mm Brembo semi-floating discs with a thickness of t5.0 mm deliver superb braking force. The stainless steel rotors offer high rigidity and contribute to excellent brake feel. Special tuning at the Brembo factory ensures that all play has been removed from the system, so that when the brakes are called for, they respond immediately.
HIGH QUALITY REAR BRAKE
At the rear a Brembo 220 mm diameter disc is slowed by a single-piston caliper. The disc's round shape complements the round shape of the front Brembo discs. Steel-braided line is used for the rear brake as well, contributing to greater feel.
ÖHLINS ELECTRONIC STEERING DAMPER
24 MONTH WARRANTY
A 24 Month Unlimited Kilometre Warranty is standard on the 2019 Ninja ZX-10RR (ABS)
BALANCE FREE FRONT FORK
Showa's new BFRC lite (Balance Free Rear Cushion) shock unit is lighter and more compact than their earlier units. The new shock contributes to increased traction and superb shock-absorption performance
TITANIUM MUFFLER
Heat-resistant titanium header pipes and silencer contribute to performance, long-lasting durability, light weight and mass centralization.
ALUMINIUM TWIN-SPAR FRAME
Revised geometry care of a steering head moved closer to the rider, and a longer swingarm put more weight on the front for increased corner entry stability and confidence on the circuit.
SWINGARM WITH OPTIMISED RIGIDITY
Designed using Kawasaki's advanced dynamic rigidity analysis and a from-the-outside-in approach, swingarm with optimised rigidity contributes to nimbler handling
BREMBO BRAKE SYSTEM
Dual high-spec Brembo M50 monobloc calipers gripping larger ø330 mm discs, specially prepared radial-pump master cylinder and race-quality steel-braided lines deliver next-level braking performance.
HIGH QUALITY REAR BRAKE
At the rear a Brembo 220 mm diameter disc is slowed by a single-piston caliper. The disc's round shape complements the round shape of the front Brembo discs. Steel-braided line is used for the rear brake as well, giving greater rider feedback.
KAWASAKI QUICK SHIFTER
Fitted standard, KQS helps riders maximise their acceleration on the circuit when needed by enabling them to shift gears while keeping the throttle fully open. Complementing the Ninja ZX-10R's increased circuit potential, a contactless-type quick shifter enables quick upshifts for seamless acceleration. The system detects that the shift lever has been actuated, and sends a signal to the ECU to cut ignition so that the next gear can be engaged without having to use the clutch. (Clutch use is recommended for downshifts.)
KAWASAKI LAUNCH CONTROL
Designed to assist riders by optimising acceleration from a stop, KLCM electronically controls engine output to prevent wheelspin and minimise wheelies when launching.
Riders can choose from three modes, each offering a progressively greater level of intrusion.
Each mode allows the rider to launch from a stop with the throttle held wide open.
KAWASAKI TRACTION CONTROL
Hybrid predictive/feedback-type evolution of the highly sophisticated traction control system helps riders push harder by maximising acceleration. 5 modes enable expert riders to get even more serious enjoyment on the circuit.
ENGINE BRAKE CONTROL
This system allows riders to set engine braking according to personal preferences.
LIGHTWEIGHT 3-SPOKE WHEELS
One of the lightest OEM wheel designs in the market, the Ninja ZX-10R's gravity-cast wheels with their 3-spoke design offer an excellent balance of light weight and rigidity.Screw-in type, aluminium side-facing tyre air valves ensure easy maintenance.
ELECTRONIC STEERING DAMPER
Specially developed Öhlins electronic steering damper provides just the right amount of damping based on vehicle speed and degree of acceleration or deceleration. Revised settings were optimised for the racetrack and winding roads.
AERODYNAMIC BODYWORK
Large upper cowl improves the aerodynamic performance of the machine-rider package, offering a lower coefficient of drag than the previous model. The wind protection offers reduced stress from wind blast and enables riders to change positions more smoothly as they set up for corner entry when riding.
RAM AIR INTAKE SYSTEM
Ram Air intake is positioned close to front of the bike (where air pressure is highest), contributing to air-box filling efficiency. Large 10L air-box allows a greater volume of intake air to be supplied to the engine.
ERGONOMICS
Riding position has been set up to give the rider confidence both on and off the track. With the handlebars moved 7.5 mm closer to the rider, the riding position is a little more compact, offering riders greater flexibility to choose their position while riding.
HEADLIGHTS
More compact line-beam headlamp units match the new upper cowl design and enhance the bike's imposing image.
LED-type (3-bulb) position lamp located at the top of the Ram Air duct.
Cowl-mounted mirrors feature integrated LED-type (2-bulb) turn signals.
The turn signals are connected via couplers, enabling easy mirror removal for trackday use.
PURPOSEFUL, RACEY STYLING
Based largely on the sleek curves of its predecessor, the Ninja ZX-10R's purposeful new styling is distinctive, but easily recognisable. Fuller upper cowl and new screen provides optimal wind defection so that the rider can change position more smoothly while riding. High-quality fit and finish and superb attention to detail ensure the bike looks equally impressive up close.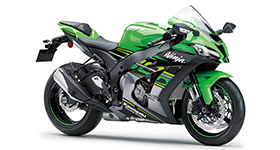 24 MONTH WARRANTY
A 24 Month Unlimited Kilometre Warranty is standard on the Ninja ZX-10R KRT Replica
Ninja ZX-10RR (ZX102GKF)

Engine Type
Liquid-cooled, 4-stroke In-Line Four

Displacement
998 cm³

Bore x Stroke
76.0 x 55.0 mm

Compression Ratio
13.0:1

Valve System
DOHC 16 valve

Fuel System
Fuel injection: ø47 mm x 4 with dual injection

Ignition
Digital

Starting
Electric

Transmission
6-speed, return

Clutch
Wet Multi-disc, manual

Frame
Twin spar, cast aluminium

Wheel travel – front
120 mm

Wheel travel – rear
114 mm

Tyre Size-front
120/70ZR17 (58W)

Tyre Size-rear
190/55ZR17M/C (75W)

Suspension – front
ø43 mm inverted Balance Free Front Fork with external compression chamber, compression and rebound damping and spring preload adjustability, and top-out springs

Suspension – rear
Horizontal Back-link, BFRC lite gas-charged shock with piggyback reservoir, compression and rebound damping and spring preload adjustability, and top-out spring

Brakes – front
Dual semi-floating ø330 mm Brembo discs with dual radial-mount, Brembo M50 monobloc oppossed 4-piston calipers, ABS

Brakes – rear
Single ø220 mm disc with single-bore pin-slide caliper, ABS

L x W x H
2,090 x 740 x 1,145 mm

Wheelbase
1,440 mm

Ground Clearance
145 mm

Seat height
835 mm

Fuel capacity
17 litres

Curb Mass
206 kg

Max Power
150.0 kW {204 PS} / 13,500 rpm

Max Power with Ram Air
157.5 kW {214 PS} / 13,500 rpm

Max Torque
115.7 N.m {11.8 kgf.m} / 11,200 rpm

Colour
Lime Green

Warranty
24 Months Unlimited Kilometres